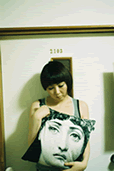 森村 理恵
写真・映像作家
もりむら りえ
1984 奈良県生まれ
2006 ビジュアルアーツ専門学校 大阪 放送映画学科卒業
2007 マスターコース第一期生として写真を学ぶ 卒業

在学中より学校外での上映会を精力的に行う。
マスターコース在籍時に写真を学び、以来映像作品の合間などに撮影し始める。
現在はショートフィルムの企画を温めながら写真作品を撮影している。
<個展>
2012 8/14~8/19 『森村理恵 個展 RIE MORIMURA Solo Exhibition Vol.1』

写真作品出品 (同時代ギャラリー 京都)

2013 4/10~4/28 『ROMANCE』

写真作品出品 (gallery 霧とマッチ 奈良)
<グループ展>
2009 7/29 ~8/3 『-ART STAR- 松原千景展』 企画・プロデュース

写真・映像作品 出品  (イロリ村 大阪)

2009 10/11~10/16 オープニング特別記念展示 写真作品出品

(Galerie Tzigane 大阪)

2015 11/21~11/22 『休日うら山フェスティバル チャイムの鳴る森』

写真作品出品 (陽楽の森 奈良)
   
Rie Morimura
Photographer and Film Director.
1984 Born in Nara, Japan.
2006 Completed a course in broadcast film department at Visual Arts College Osaka.
2007 Completed doctoral program of photography at Visual Arts College Osaka.

Vigorously conduct screenings outside while a student at the school. Doctoral students studying photography at the time, Between the start and video work since the shooting.
Currently planning a short film while to warm Photographs are taken.
<Solo Exhibitions>
2012 8/14~8/19 『RIE MORIMURA Solo Exhibition Vol.1』
Photographs exhibited. (DOHJIDAI GALLERY of ART KYOTO)
2013 4/10~4/28 『ROMANCE』
Photographs exhibited. (gallery KIRI TO MATCH NARA)
<Group Exhibitions>
2009 7/29 ~8/3 『 -ART STAR- Chikage Matsubara Exhibition 』

Planning and producing.
Photographs and video works exhibited.
(IRORIMURA Osaka)

2009 10/11~10/16 Special anniversary exhibit opening Photographs exhibited.

(Galerie Tzigane Osaka)
2015 11/21~11/22 『 Chaimu no naru mori 』 Photographs exhibited.
(YOURAKUNOMORI NARA)